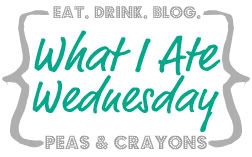 I decided to join in on Peas and Crayons' WIAW party!
My day began with a grapefruit + a handful of Habenero BBQ almonds.
I ususally don't like almonds because I find them really bland, but these are soooo good.
I ate this thinking I was going to the gym and it would be a good, little pre-gym snack, but I didnt't make it to the gym for a few more hours.
Around 11:00 a.m., I decided to mix up some of Mama Pea's Apple Cinnamon Pancakes.
With a mug of tea, yum!
After finally going to the gym and then running some errands, I had I snacked on some blueberries and veggie sticks
and an unpictured granola bar.
Soon, dinner came rolling around:
The meal featured Mama Pea's Black Bean Burgers, served on an English muffin bun (love those nooks and crannies!) with plenty of smashed avocado, lettuce and tomato. Along side, were some butternut squash fries and sweet corn on the cob. I will admit, I gave most of the fries to my dad. They tasted strinkingly similiar to sweet potatoes, which I do not like (sweet potato soup is a unique exception).
So, there you have it: my totally random day of eats, made espicially random by my going vegan for a week. I ususally try to eat more greens/veggies then I did yesterday, but I'm sure I'll make up for it today :)
What's the best thing you've eaten this week?